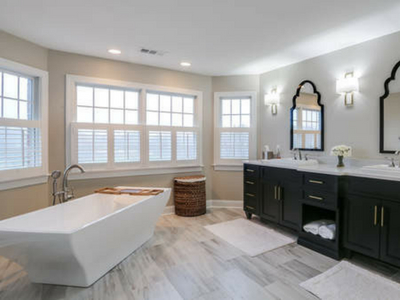 There are few things in life that are certain except death, taxes, and the fact that a fresh coat of paint is a surefire way to brighten up your home. And rooms like the kitchen and your bathrooms, which often come in white, tend to go unnoticed. Give them the makeover they need to make pivotal rooms like these the most inviting that they can be.
Is it up to Code?
It might be the step you want to skip, but priming the space you're going to paint is extra important to ensure that you won't have to do the job twice. That means you're going to have to empty the room out of the furniture already inside and take everything off the walls.
But it doesn't stop there - you've got to wipe the walls down to clear them of buildup that may have occurred over the years. This includes dust, dirt, and oil from your hands touching them. When you make certain that you clean the walls before painting, it ensures that the paint will adhere more easily to the walls.
Especially if you're painting a kitchen or a bathroom, you're going to want to pay attention to the condition of your walls. Fill in nail holes or cracks in the walls with spackle, and if it's a bathroom, be certain that there's no structural damage due to water leaks. A little sandpaper goes a long way when it comes to small imperfections, but some bathrooms might need a full renovation before you put all the work in of painting.
Do You Have the Right Equipment?
The next thing you're going to need is the actual paint. When it comes to painting bathrooms, kitchens, and anything that's more high-traffic, you'll want the paint you choose to have a hard-wearing finish. With other areas, you should be fine with matt.
Besides the paint, though, you'll need a roller and a brush. Rollers are great for painting the broad areas you need to go over, but a brush helps to get into smaller spaces like the corners.
Painting tape is also a necessity unless you're a superhuman that can paint in a straight line against the edges of your walls. You'll also need tarps to put on the floors so you don't make a drippy mess on the carpet, a paint tray, and a ladder if you have larger walls.
The Mood
Color has a powerful effect on the mood of a room. With tools like the Adobe Color Wheel, you can see which colors are complementary to one another and play off each other well.
You can also take it one step further and think about color psychology when trying to choose which paint color you'd like. Yellow, for instance, makes us feel warm and optimistic. Green gives off a peaceful and healthy vibe for whatever room it's in. You can study up on the way each color makes people feel when you've got a particular color in mind.
Don't Be Afraid
When thinking of adding some color to your walls, the idea of change can seem scary. What if you put all that color on and work really hard, and end up hating the work you've done? Most paint carriers let you get a sample size, so you can try out the color you've chosen on your walls before completely committing to it.
The mistake that most people make when selecting a color is that they actually don't get bold enough. Renovating your room doesn't mean just painting a slightly brighter shade of white. Your kitchen's been that color for years. Get bolder with it, and you won't regret it. If you do, you can just paint over it. But trust us, you won't.
If you can't decide on one color, you don't have to. Feature a wall in your room to help out with that one color dilemma. Perhaps it's where the light hits the most - that could be your feature wall. Not all four walls have to be the same.
You may just decide that paint isn't going to be enough to transform the room the way you want. And if that room is the kitchen or a bathroom, Reico Kitchen & Bath can assist you with design, product selection, installation, and even some paint color recommendations for your soon to be new room. If you're still feeling in over your head, let us help.