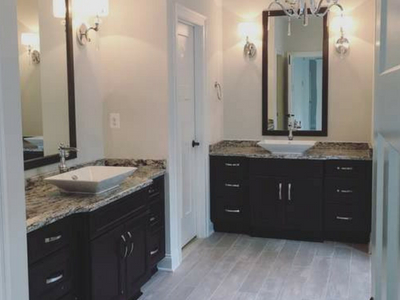 Maybe you're one of those folks who's lucky enough to have a large bathroom space in their home. For the rest of us, we're always looking for ways to makeover a smaller bathroom to make it look bigger and brighter.
If you've got a super small bathroom, don't worry. There's plenty that can be done to give it a fresh look without having to break the bank, or undergo a complete bathroom renovation.
Get a Corner Sink
In a smaller space, a big sink can take up a lot of walking room. When you remove that large rectangular space for the more efficient shape of the corner sink, you're going to notice a huge difference. Plus, corner sinks are a modern take on the classic bathroom look.
Or Try a Trough Sink
If a corner sink isn't for you, consider a trough sink design. It's super trendy, and the design that narrows as it progresses is ultra space conservative. Because they're typically wall mounted, they'll also allow you to have much more free room for your feet.
Recessed Medicine Cabinets
You may not have thought about it, but medicine cabinets that protrude from the walls can use a lot of the space in your bathroom. It can also make your bathroom look more cluttered than it needs to.
Add some extra room to your area by installing recessed medicine cabinets instead. This adds depth to the entirety of your bathroom. Up the game by installing electrical outlets inside the recessed space. By doing this, you remove the extra chargeable gadgets you've got hanging around your bathroom, making the space look messy.
Get a Bigger Mirror
Mirror mirror, on the wall - make it bigger! Stretch your mirror all the way across your bathroom wall instead of just a portion of it. Not only does this give your bathroom the illusion of looking larger, but it makes it accessible to more than just one person to use at once.
Put the Towel Bar on a Door
No space for a towel rack? Think again. If you mount it on the door of your bathroom, you're using space to the best of its ability. Just make sure that when you're opening and closing the door, it's able to swing freely and not smash into any of your fixtures.
Change Your Floor Tiles
When it comes to floor tile design, bigger is better. Smaller tiles can give the appearance of a smaller area. Choose a larger tiled floor design to broaden the look of your bathroom.
Get a Shower Niche
If you like your recessed medicine cabinet, then you're going to like the idea of a shower niche. Instead of those awkward corners taking up space in your small shower, add a recessed shelf so you have more room for storage without always bumping your elbows on the protruding shelves.

Now that you've got plenty of ideas for how to make your small space bigger, it's time to get going and get that shower space you've always dreamed about. You can request a consultation to get your area checked out and receive expert advice on which of these is the best remedy for your room.