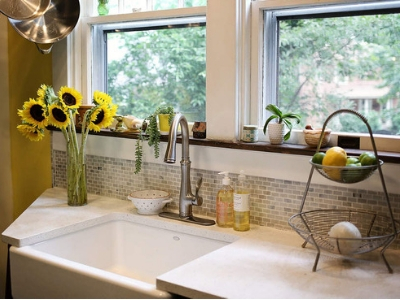 Think about your kitchen. Are you always tucking in your elbows and trying to cram your pots and pans into the cupboards? And forget it if two people want to cook in there at the same time. There will really be too many cooks in the kitchen.
It sounds like your kitchen is too small. Well, it's time for you to renovate. Even a small space can be made into a very workable, luxurious area if you take the time and plan your area out just right. Use every square inch of your house to your advantage so you don't have to feel squished in your own home anymore.
A Smaller Sink
Do you ever really think about your sink? If you have a small kitchen, your sink might be the culprit. A huge sink could be taking up space that you could be using for food prep space. In a remodel, you can designate a sink to the corner of the room to free up your space, or just get a smaller design than the large industrial sinks that are popular, but not space efficient. Just make sure your biggest dinner plates and favorite cooking pan fit!
New Cabinets
Pull-out cabinets are life-changing for your kitchen if you don't already have them. If you're struggling for space in your kitchen to store all your pots and pans, pull out cabinets are a no-brainer. Renovate your kitchen with new cabinets that can fit almost double as many tools as you could with regular, boring cabinets. You'll wonder why you never used them sooner.
You Can Still Have an Island
Think your kitchen is too tiny for a kitchen island? Think again. Just because you have limited space doesn't mean you have to sacrifice your dream island. It just might not be as big as you pictured it, but you'd be surprised how much work you can do prepping your food on even a small island. Consider changes to your overall kitchen layout that could accommodate the space needed for a kitchen island.
Lighting is Key
Pendant lighting is a bright idea that updates your kitchen, especially if you currently have old, outdated overhead lights that don't do anything for your kitchen. Adding natural light to space opens it up and makes the entire area look bigger. Pendant and undercabinet lights can help you achieve that look as well as provide much-needed task lighting, and dramatically improve the look of the entire kitchen.
If It's Not Time for a Remodel
Maybe you're saving up your dollars until you can get prepped to completely renovate your kitchen. For some quick fixes to make your tiny kitchen seem larger while you're waiting, you can play with color and texture.
Painting your kitchen white reflects light and opens up space. It makes the walls appear to recede, where with darker colors they look more apparent. You can contrast shades of darker and lighter whites to keep the room from feeling too clinical.
You may also want to consider making your cabinets glass cabinets instead of concrete ones. The opaque or clear front helps bring the eye past the cabinets themselves and into the back of the wall so that the kitchen appears bigger.
Consult an Expert
At Reico Kitchen and Bath, we offer you options for any size space that you're working with. Our experts know just what to do with spaces big and small. When it comes to planning your kitchen, we've even got a step-by-step planning guide that you can follow to start making your dreams seem more like a reality.
You'll learn how to measure, what to measure, and things to think about that you may not have considered before, like if you want under cabinet lighting or a wet bar sink. Don't stick to your tiny, cramped kitchen. Open up the world of possibilities that you've got right at your fingertips for a kitchen you'll actually love working in.