The Do's and Don'ts for Cleaning Your Cabinets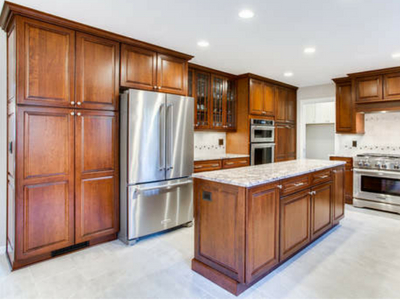 One of the main areas most exposed to bacteria, dirt and grease in your home are your cabinets. Grease from cooking, condensation from external temperatures and children opening and closing cabinets calls for routine upkeep. We know that your house is one of your largest investments, and we want to help you master the maintenance. Here, we share the do's and don'ts for cleaning your cabinets.
Generally speaking, you should clean your cabinets with water or simple dish soap with a soft clean cloth. Cleaning cabinets mainly depends on the kind of cabinets you own (Learn more about Cabinet Basics here). However, for standard cabinet cleaning recommendations, consider the following options:
All-Purpose Cleaner/ Nonabrasive All-Purpose Cleaner
Baking Soda & Water
Vinegar & Water
Detergent & Water
An oil-soap wood cleaner is your best bet for wood cabinets. However, you could also clean wooden cabinets with materials you may already have.
Detergent: You can use any oil/grease cutting laundry or dish detergent and water to clean your wood cabinets. Opt for two cups of water with every cup of detergent ratio. Make sure to not over wet the cabinets because it could damage the finish. After applying the solution, wipe it down with a damp cloth first, followed by another dry cloth.
Vinegar: Vinegar mixed with water is another alternative. Vinegar works well for removing sticky films typically caused by dirty hands.
Baking Soda: The difficult stains should be treated with baking soda. Mix the baking soda with water to make your own paste and then wipe it with a wet cloth.
When it comes to cleaning stubborn stains on painted cabinets, the same rules apply as with wooden cabinets, meaning baking soda mixed with water is your best option. If you're working with a water-based latex style of paint, be careful when scrubbing your cabinets. Baking soda can potentially scratch that surface, so opt for nonabrasive all-purpose cleaner and warm water, gently rubbing the surface. Be sure to test your selected supplies on small, concealed areas to ensure you are not damaging the finish or color.
Stay away from the following products when cleaning your cabinets.
Glass Cleaners like Windex, which contain Isopropanol, alkylbenzene Sulfonic Acid, Methyl Ester and Propylene Glycol
Comet, which contains Sodium Carbonate and Calcium Carbonate
Spic and Span, which contains Sodium Silicate and Sodium Carbonate
Ammonia
Tilex, which contains Sodium Hypochlorite
Pledge/ Furniture polish, which contains silicone emulsion waxes
Hand Washing liquid, which contains Sodium Laureth Sulphate and AlphoSulfo Methyl Ester
Don't expose finished cabinets to high heat. When using the self-clean cycle of your oven or broiling with the oven door open, open the doors and drawers of adjacent cabinets to lessen exposure to high heat. Be cautious of countertop appliances such as tea kettles, vegetable steamers, toasters, etc. that create high moisture or high heat. Place coffee makers in front of upper cabinets so the steam will rise in front of the cabinet door as opposed to under the light valance. Be careful with candles or strong light fixtures placed near finished surfaces because they can cause discoloration.
We hope these tips help you keep your cabinets looking their best. For more expert recommendations, request a consultation with a Reico professional.