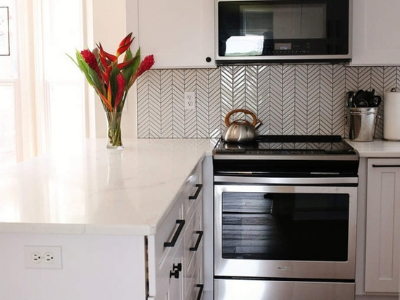 You're in your kitchen. You're trying to cook dinner. But you keep bumping into things. Ugh.
Your pots and your pans just don't fit on the countertops. There's no space to chop your veggies. You feel cramped and trapped. Might as well give up and get takeout again tonight, right?
Wrong. Your kitchen might feel tiny, but there is always hope. You can take a teeny kitchen and turn it into a space where you've got some elbow room.
Layout Logic
The number one problem with your kitchen as it is is probably the layout. When a kitchen isn't working, it's often because not a lot of thought was put into the workflow of the area.
A user-friendly kitchen works with your cooking style and the flow of the area. If you use your oven a lot, a prep station placed to the right of it for easy reach can make a huge difference in functionality.
Looking for areas to add counter space onto your existing counter will make you feel much more equipped to slice and dice whatever you need. Don't let clutter take up these spots: it's all for cooking prep.
If your work triangle hasn't been taking into consideration, take a moment to assess the placement of your sink, stove, and fridge. All of these components should be no more than four feet from one another, but no more than nine feet away.
Transforming Tables
If you don't have the room for additional counter space, you might want to look into transforming furniture. You can add tables that pull out from walls, and shelves that drop down and fold back up into the wall when needed. They're easy to install, and are often called "wall leaves."
You can add pull out drawers from your kitchen counters that easily slide in and slide out when you need them. People can even use this pull out counter as a place to eat their dinner.
Go Vertical
If you have no space left, then it's time to look up. You can make your kitchen roomier by adding organizers that use the vertical space that you have available. Ask a designer if you have room to add more cabinets in your space. You can also add open shelving to create more space for items that are getting in the way of your cooking.
Use the Next Room
If you have open space in the room that borders the kitchen, you're a prime candidate for a function makeover. Add cabinets to this area to store your kitchen gadgets that you don't use every day. That way, you can open up space for the things you're constantly reaching for, greatly improving your functionality.
If you are convinced that bigger is going to be better, talk to a designer about opening up your entire kitchen by moving it outward into the adjoining space. This increases the size of your project, but could make all the difference in the future of your kitchen. Expanding outward is a surefire way to make your kitchen more open and spacious.
We get it. Your kitchen is small. If you think there's no hope, don't give up yet. Contact Reico Kitchen & Bath. We promise you a team of experts that will recognize the kitchen struggles you're going through, and that are ready to help. We've seen kitchens in almost every shape and size, and can help you transform yours.. Yes, no matter how small it is. Get ready for a functional kitchen in no time.