Karla Kelley, Design Support - Fredericksburg,VA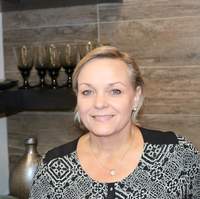 5403744042
2362 Plank Rd
Fredericksburg, VA 22401

My absolute favorite part of being a kitchen and bath designer is taking a room that is limited in space and imagination and completely reinventing how it works and looks. I love presenting ideas to customers that take their space and show it to them in a completely fresh and unexpected design. Sometimes the best solutions are minor rearrangements, and other times the changes are more major. Either way, working with the owners, a complete transformation can happen that improves both form and function.
The kitchen and bath industry is very dynamic. This is not the same industry that it was 20 years ago. That is what is so fun about it! I am very curious by nature and always trying new ideas, continuing my education of the newer and better solutions being introduced constantly. I am humbled to have the opportunity to improve the quality of everyday life in peoples' homes.
Seeking the skills of a professional designer is a decision that can be the difference between getting the same kitchen, just looking different, or enjoying using a better functioning space that looks great, and maintaining the amount of investment that you are comfortable with. Please take a look at my portfolio at the new spaces created for everyday people who were looking for something special.