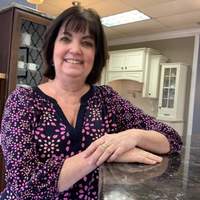 Susan Crasco
Key Business Manager
Fredericksburg, VA
With an Associate of Arts degree in Interior Design from the Art Institute of Atlanta, experience in the Kitchen and Bath industry since 1982 and a passion and love for design and what she does, Susan Crasco joined Reico Kitchen & Bath in 2019 as Key Business Manager. 
For Susan, communication is the key to every step of a successful project.  She loves to ask questions, listen to her client's wants and needs, and then put together the best possible designs and solutions for them.  Those designs put Susan's years of experience to work creating something that is both beautiful and functional.  That includes thinking outside the box to create that final, unique solution for her clients.  Then the fun begins with choosing the right materials and colors for the project.
The communication continues throughout.  Keeping clients informed, educated and updated keeps the job running smoothly.   For Susan it all creates that passion and love for her work, as every day and every project presents new challenges.  
Request Consultation
Susan Crasco
SCrasco@reico.com
5403744053
2362 Plank Rd
Fredericksburg, VA 22401

Request Consultation