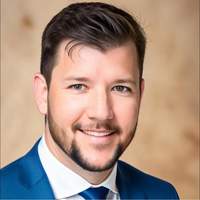 Zachary Schiller
Key Business Manager
Chesapeake, VA
Zachary Schiller joined Reico Kitchen & Bath in 2022 as a Key Business Manager.  Zachary has a passion for designing both kitchens and bathrooms.  For him, being able to help the client's vision come to life plays a big part in what turns a house into a home and the kitchen into the heart of that home.
In addition to a Bachelor's Degree in Interior Design from the Art Institute of Raleigh-Durham, Zachary also brings a diverse wealth of experience with him.  To put himself through college, Zach designed and built custom cabinetry and furniture in his backyard to sell to the public.  
In 2015, Habitat for Humanity contacted him to collaborate on a DIY tutorial blog for their website. Zachary created furniture tutorials for the company, donating the finished product once completed. He completed a Home Staging internship and even redesigned a home for the hit HGTV Show "Love It or List It".
Zachary competed in a 2016 Design Competition at the Downtown Raleigh Home Show, winning both the People's Choice and Show Manager's Choice Awards for his design and build of a "man-cave" inside a shipping container.
When not designing, Zachary enjoys traveling and exploring the coast of Virginia, spending time with his family and trying new restaurants.
Request Consultation
Zachary Schiller
zschiller@reico.com
757 564-4825
1524 Volvo Parkway
Chesapeake, VA 23320

Request Consultation