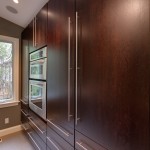 Tall built-in cabinets and built in appliance stream line look!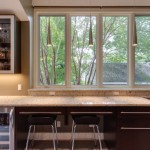 Window view from seating area of Galley Kitchen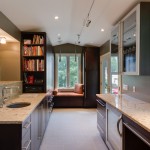 Galley Kitchen Remodel, Arllington, VA
Now retired designer Anne Hinte, formerly of Reico Kitchen & Bath's Springfield, VA kitchen and bathroom showroom, was given the opportunity to work with a large 33' galley kitchen space.
The biggest challenge? The kitchen would only be 9' deep! A back porch was converted into a 33' x 9' kitchen addition in Arlington, VA with the intent of showing that a long, narrow kitchen space can be transparent and dynamic with good integration to the rest of the house, plenty of daylight and a rational layout for day-to-day kitchen functions and hospitality roles. A striking and functional kitchen space where you could also spend time with kids and friends.
A collaborative design between client and designer included many trips to Reico's Springfield showroom to share ideas, hammer out details and ensure nothing would be missed on this kitchen remodel. A single wall cabinet in the kitchen meant storage would be a challenge. This was taken into account by designing taller, built-in cabinets into the kitchen design. Quarter sawn white oak cabinets with an espresso satin finish were selected. The open grain look of the quarter sawn oak provided a dynamic appearance to long expanses of cabinetry. The collaboration paid off, creating a lovely galley kitchen design with plenty of room for built-in stainless steel kitchen appliances and some nice personal touches including a cozy window seat and aluminum and glass doors on the sole wall cabinet.
Visit our Springfield, VA kitchen & bathroom showroom or one of our 21 other locations to get started on your next kitchen or bathroom remodeling project. We can't wait to help solve your biggest challenge!