Reico Kitchen & Bath Springfield, VA Showroom
Kitchens, Bathrooms and Remodeling

Find kitchen cabinets, bathroom cabinets, appliances, countertops and more at our fully remodeled Springfield, VA kitchen & bathroom showroom, located just one minute from the new St. James athletic complex! Filled with a near endless variety of kitchen and bathroom displays, it will help you get started with your kitchen remodeling or bathroom remodeling project. Talk to our professionals and get great kitchen design ideas, or ask them about bathroom design ideas.
This Reico Kitchen & Bath showroom proudly offers kitchen design, bathroom design, kitchen remodeling and bathroom remodeling services to Springfield, Fairfax, Alexandria, Arlington, McLean and all of the surrounding areas of Virginia as well as Washington, D.C. Ready to get started? Our new virtual tour link (coming soon) will take you inside our showroom to see numerous displays of kitchen cabinets and bathroom cabinets. Find inspiration from our own kitchen design ideas and bathroom design ideas to start you on your new kitchen remodeling or bathroom remodeling project.

In addition to English, our Springfield, VA Reico Kitchen & Bath location is also fluent in Spanish, Portuguese, Korean, French and Creole(Haitian).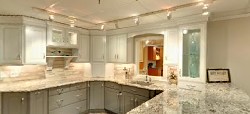 Reico Kitchen & Bath
6790 Commercial Drive
Springfield, VA 22151
Store Hours:
Mon-Fri 9:00 - 6:00
Sat 10:00 - 4:00*
Come check out 40 full slabs of Cambria when you visit our showroom and see exactly what your countertop can look like! For corporate, warehouse and will-call information, please visit those locations pages.
Meet our Springfield, VA Kitchen & Bath Designers