Measuring your kitchen or bathroom doesn't have to be difficult.
While we can gladly assist, all you really need is a tape measure, pencil and a piece of paper or the a floor plan grid. Like you can find in our Kitchen and Bathroom Planning Guides. There are even some apps today that will let you take a picture of the room and start to figuring out the space. But nothing replaces a good tape measure and a steady hand. Here are some general tips to follow: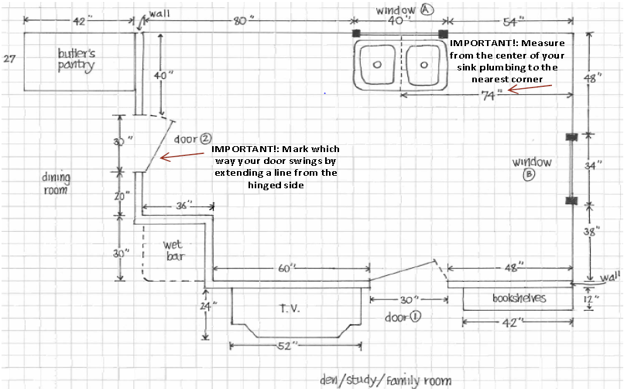 Start in one corner of the room, select a wall and measure the distance in inches of every item on that wall from the corner. Write all measurements on your sketch.
Go to the next corner and locate every item on the next wall in relationship to that corner. Continue to measure all around the room, until everything is located, measured & marked on your sketch.
Jot down the overall lengths of walls, height of room and distance of every item from the floor – your outlets, light switches, soffits, ledges, appliances, etc.
Mark exact location of sink, drains, gas lines, electrical outlets & switches on the provided floor plan grid.
Mark direction of door swing(s) on provided floor plan grid.
Measure carefully and double check all measurements. Measure from outside of casing to outside of case.
For more help, Go to our "How to Measure your Kitchen" or our "Measuring your Bathroom for a remodeling project" page.