Stainless steel has long been the popular choice for kitchen sinks.  It has a great look and cleans easily.  You have the standard choices - drop in or undermount, one bowl or two (in various sizes to meet your personal kitchen sink needs), but what else should you consider?  Deborah Baldwin of This Old House Magazine offers up a few other, less obvious factors that you should consider before making your final selection: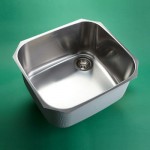 Gauge your metal - 16 to 18 gauge is the best, watch out for 22 gauge and the denting, vibrating and other challenges it can pose
Go deep - 9-10" will hold a lot, especially if countertop space is at a premium
Watch your back - an undermount stainless steel sink gives you a cleaner look, but at an inch lower can strain your back - consider a basin rack to counter the difference
Shape matters - square corners give you flatter surfaces and more volume while soft, rounded angles provide for easier cleaning and better drainage
Avoid a steel drum - if you give it a thump and hear this sound you likely want to avoid, unless you want to long for a tropical getaway every time you turn on the faucet
Measure the ingredients - look for a lustrous satin finish and a 300 series sink (18% chromium & 8% nickel), which provides the optimal resistance to staining and corrosion.
Move that drain - look for smarter drain placements to the back (more usable space in your sink base cabinet) or the rear side (better drainage)
All of these factors should be considered when you make your buying decision!