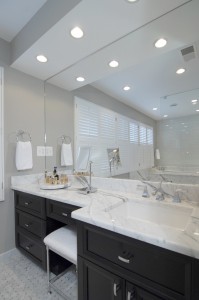 "Her" Vanity - personalized design with custom storage and seating area
Last week, we shared results on the most desired kitchen trends based on a survey given to Kitchen & Bathroom Designers by the Research Institute for Cooking & Kitchen Intelligence (RICKI). This week we wanted to share the results of what consumers are asking for most when remodeling their bathroom. Here are the top 5 most desired bathroom design trends:
Furniture-style vanities (60%) Decorative furniture-style vanities offer a distinctive and formal look to most bathrooms, with rich woods and finishes offering warmth to your bathroom space
His-and-hers vanities (55%) Prefer your own space in the morning? Separate bathroom vanities give you that and more by customizing your individual preferences and storage needs
"Super" showers (46%) Customized features such as touch technology, pre-set temperature controls, and jet and spray configurations are only the start. Add a shower seat and some music you may never want to get out!
Customized storage (46%) Drawers, Tall Linen cabinets, Hampers, Open Storage allow you to store more!
Radiant heated floors (45%) A low heat to warm your feel and take a little bit of the chill out of the bathroom as well.
While these are the top 5 requests, you can see that fewer consumers commit to these particular features for their new bathroom. For you, it may be other bathroom design trends such as Universal Design features, water-saving showers, faucets & toilets and private toilet compartments that you may consider for your bathroom remodeling project. What will you just have to have in your new bathroom?