Don't be fooled by the room size!  Bathroom remodeling is a tricky endeavor that must be approached with the same great detail and care you would towards any remodeling project.  Here are a few things we have learned from our own bathroom remodeling work that we can pass along to help: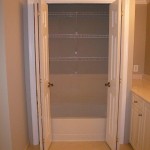 Install new blocking for current or future towel bars, toilet paper holders and grab bars.
Consider necessary changes to electrical circuit for new lighting or maybe even a heated floor.
Check water pipes to ensure compliancy to current codes and ability to handle new fixtures.
Allow proper clearance when adding drawers or changing cabinet layout from existing time.
Give yourself enough time to research, select, finalize and order materials.
These are but just a few examples of what to consider in a bathroom remodel.  What other bathroom remodeling experiences have you had that you want to share? A bathroom remodel can be made easy when you take time to make the right selections.  Don't look back wondering what happened, why it took so long.....or how your tub ended up in your closet!