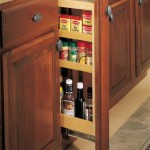 Merillat Spice Rack Pullout
A great kitchen design is only as great as it is easy to use. Most people spend so much time focusing on the bigger choices of kitchen cabinets, countertops, appliances, sink, etc. that they overlook some of the most fun and functional options for their kitchen – accessories! The right kitchen cabinet accessories can really make your kitchen both fun and functional.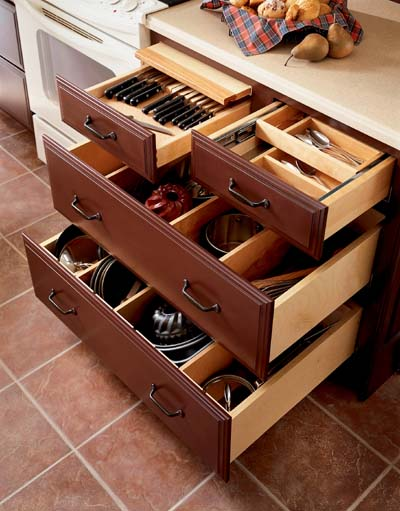 Kitchen cabinet drawer organizers can arrange everything from your knives and forks to dishes, plates and cookware in a variety of ways.
Spice racks don't just mount on the backs of cabinet doors anymore. Make the most out of narrow space and replace a base filler in your design with a pull out spice rack that fits between kitchen cabinets.
Tilt out sink trays will hide your sponges and other small cleaning tools and you will immediately notice a less-cluttered more organized kitchen countertop.
There are countless options available to maximize the use of and space in your kitchen. What are your favorite kitchen cabinet accessories now? Or what are the must-have kitchen cabinet accessories for your next kitchen? Choosing the right ones will make your new kitchen both fun and FUN-ctional!