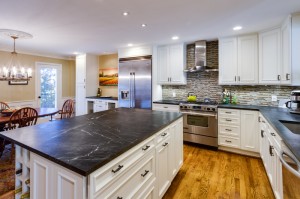 Kitchen Islands - the most desired kitchen feature!
The Research Institute for Cooking & Kitchen Intelligence (RICKI) gathered feedback from kitchen design professionals indicating what consumers ask for most when they want to start remodeling their kitchen. Here are the top 5:
Islands(80%) People want the flexibility an island gives not only as a prep & cooking area, but also as a storage area and maybe most importantly, socializing area in the kitchen
Roll-outs, Pull-outs & Pull-downs(79%) No more bending over or stretching up to reach something. Kitchen cabinets have accessories that can do that for you and keep you upright and enjoying everything about your new kitchen
Drawers instead of cabinets(79%) Store, store, store more, more, more in your kitchen cabinets!
Energy-efficient kitchen appliances(66%)One of the easiest, lesser expensive ways to go a little more environmentally friendly in the kitchen
Mix-and-match materials/surfaces/finishes(64%)Whether you mix kitchen cabinet finishes, use different kitchen countertops for main & island tops or find something even more inventive, mix-and-match requests create focal points within the kitchen and make it your own space.
For you it could be lighting…or creating a recycling area when you go to remodel your kitchen. It's your space and what you want matters most. So what's on your kitchen remodeling wish list?