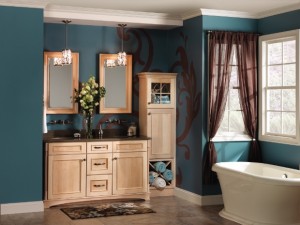 Think about cabinets and storage options for your bathroom
•
Which bathroom?
I know it sounds silly but let's be honest…most of us would redo all the bathrooms in our house to start if we could. So decide…will it be a powder room, hall bathroom, shared bathroom or the master bathroom.
•
Find your style
What's your inspiration for this new bathroom? Something traditional…or are you ready for a more contemporary bathroom? Use
online photo galleries
and design magazines to find the style your are looking for. •
Pick your bathroom cabinets
Your bathroom vanity, along with a medicine cabinet and mirror, influence the look, feel and design of your bathroom. Style matters here…is it a classic 2 door vanity, a floating vanity cabinet or something else that inspires you?
•
Storage
•
A Design Plan
Planning any structural, plumbing or electrical changes to the space , or will you just be updating the existing layout. Regardless, take room measurements and note current or desired locations for cabinets, shower/tub, toilet and other pieces in room.
Is it time for the heated floor you've always dreamed of? Tile backsplash? A new paint color? Any moldings or other accents you want in your new bathroom? Talk with your design consultant about the options you have to make your new bathroom space pop!
•
Finishing Touches
Merillat's Step-by-Step Bathroom Planner
. This easy to use online resource can help you with these details and give you some great ideas to consider for your bathroom once you are done!
Source Note: This blog post was developed using information from the online article "
6 steps to planning a new bathroom
" by Merillat Industries