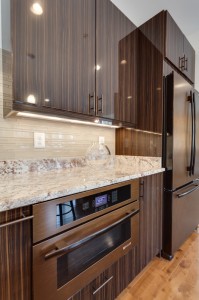 Bringing different colors together - different colors working together create a distinctive color scheme in this modern kitchen!
Color decisions are an integral part of every kitchen remodel. The possibilities are near endless, leading to both excitement over the options and fear of making the wrong choice. Whether you like white kitchens, modern or contemporary kitchens or somewhere in between, in kitchen remodeling the following decisions will help you determine the color scheme for your next kitchen:
Kitchen Cabinets – often the dominant color in the room just by the sheer number of cabinets involved and visual space taken, this will usually be the first color you decide on. Find one that fits both your style and your home.
Countertops – also take up a lot of visual space in the kitchen and because they are near eye level become an important consideration. It really helps to have a kitchen cabinet finish sample with you to find the right countertop match.
Backsplash – do you want to coordinate or do you want to clash a little bit? Or both? There are near endless options for backsplashes that can blend or even stretch your color scheme a little bit.
Appliances – your refrigerator, range and dishwasher color will have a huge impact on your design and the color scheme of your kitchen. Do you envision stainless? Black? Don't forget to include your kitchen sink and faucet in that decision. Both can have a big impact as well.
Flooring - be sure that whatever type of flooring that you pick coordinates nicely with your other selections for the kitchen, particularly your cabinets, countertops and appliances. You should also consider how much of the home the flooring will cover and how it will interact with the flooring in other parts of the home.
Walls – Not to be forgotten, your walls are an important consideration to your color scheme. For the spaces you can see, pick something that balances nicely with the other kitchen color selections.
Hardware – last but not least, your hardware often puts the finishing touches your new kitchen color scheme. While the colors may blend in that does not stop you from selecting very contemporary or exotic shapes. Because it is typically the last thing to add in the kitchen, you can take a little extra time to decide based on the how the rest of your kitchen colors come together.
You can make these kitchen color selections in any order you like. Cabinet finish samples are extremely helpful to compare to your other colors, but where possible get as many samples as are available to compare and even bring home if possible to get the best idea and feel for the colors of your new kitchen.
Source Note: This blog post was developed using information from the online article "Kitchen Color Schemes"