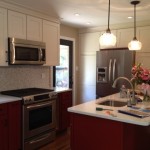 Full Overlay Kitchen Cabinet Door style in Chiffon & Cardinal Red
One of the early choices to make in kitchen cabinets when remodeling your kitchen is choosing a door style.  There are 3 main kitchen cabinet door styles: traditional, full-overlay and inset.
Traditional kitchen cabinet door styles show the face frame of the cabinet behind the doors and drawer fronts and are most commonly found in kitchen designs.  Full overlay kitchen cabinet door styles offer larger doors and drawer fronts which conceal most of the kitchen cabinet face frame that would normally be visible with the traditional overlay door style.  This style will be slightly more expensive than the traditional overlay since it uses more materials in the doors and drawer fronts.  The distinguishing feature of Inset kitchen cabinet door styles is that the door itself sits inside the cabinet flush with the face frame to provide a smooth looking fit and appearance.  The Inset kitchen cabinet door style is typically the most expensive of the three as it is more labor intensive than the other styles.
All of that can be hard to understand without seeing.  It is not unusual to get more questions or even a few puzzled looks after explaining.  Check out this brief, helpful video that shows you the differences just described above.
Kitchen Cabinets: Traditional, Full Overlay & Inset Door differences