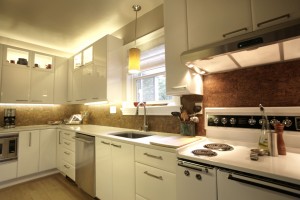 < White Kitchen Design
White and bright are back in kitchens after years of cherry cabinets and dark granite countertops, opting for the bright, fresh, clean look that white brings to any space.
Sarah Reep, director of designer relations and education at Masco Cabinetry, which makes KraftMaid, Merillat and Quality Cabinets, attributes this shift back to white kitchens to a more specific cause: the "Apple influence."
"It's an emphasis on clean, bright technology — modern is taking over," she said. "Cherry and maple are still popular, but homes are moving lighter," she said. "Even window trim is moving to white, and cabinets are moving to that color as well."
According to an annual survey of designers by the National Kitchen & Bath Association, a white kitchen color scheme is by far the most popular. And for those choosing painted cabinets, painted white cabinets win hands down: 59?percent of designers say clients choose white.
In addition, the use of white cabinets in the kitchen also comes with some very practical advantages: White kitchen cabinets work with any house style, from modern to traditional. Using white on kitchen cabinets helps accent various parts of the kitchen, from decorative backsplashes to cabinet details. Even items on kitchen countertops will "pop" a little bit more in white kitchens, especially when combined with a lighter shaded kitchen countertop. Homeowners are moving towards these lighter shades of quartz, granite and other materials like marble for their kitchen countertops to better compliment their white cabinets.
Says Anne Hinte, kitchen & bath designer for Reico, "More clients than ever are showing me pictures of white kitchens from Houzz, Pinterest and other sources and magazines. White provides a nice, clean look that allows great design flexibility and the opportunity to easily create some beautiful focal points in any kitchen."
Source Note: This blog post was developed using data and information from the online article "White-hot look: Creamy kitchen cabinets, countertops popular in remodeled properties" by Jim Weiker, The Columbus Dispatch