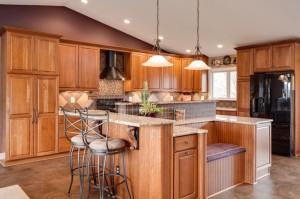 New cabinets, countertops, flooring, wall coverings and more can bring your tired old kitchen to life!
It's a new year! Thinking about remodeling your kitchen?
You are not alone! Many homeowners are considering kitchen remodeling in 2013. According to a survey on 2013 kitchen remodeling trends by Russell Research, the most popular choices for updating the kitchen are countertops (76%), wall coverings (70%), cabinetry (67%) and flooring (64%).
Of course, kitchen remodeling is not just limited to these options. For you it could be one of the already mentioned….or lighting, hardware, fixtures, you name it! Anything you can do to change or improve the look, style or functionality of your kitchen makes a difference. If you are not sure what to put on your kitchen remodeling list for 2013, then check out our Getting Started section or get ideas from our Photo Gallery.