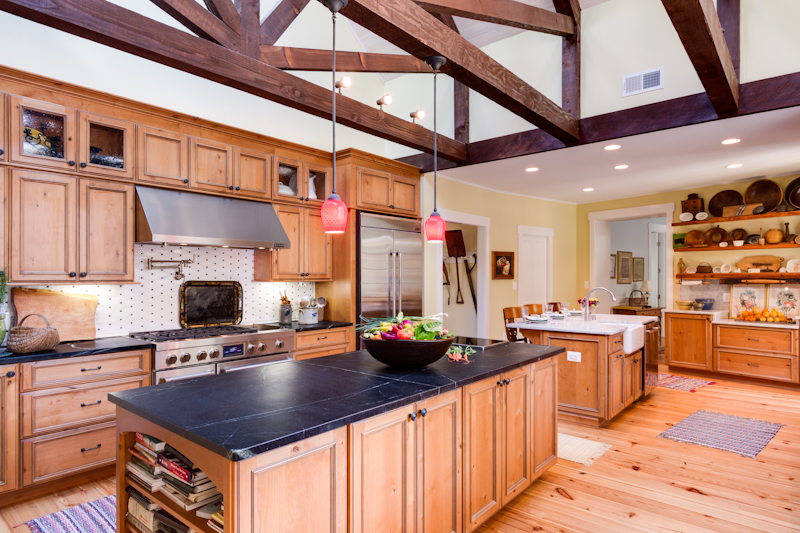 Black soapstone countertop (contrasting color next to it!) and open shelves to side. 2 out of 3!
Black kitchen countertops. Open Shelves and Glass front cabinets. Darker Paint tones.
According to a recently released trend report, Zillow sees these 3 kitchen design trends taking off in 2014. Determined by the browsing preferences of users on Zillow Digs, a resource for consumers to view kitchen images by a variety of search terms, these 3 kitchen design trends each can make a dramatic statement on their own or when combined in any kitchen.
How can you make each work in your kitchen? Here are a few suggestions:
Black kitchen countertops – add a honed or leather finish to granite, engineered stone or even soapstone (depending on how black you want your black) to give a richer, more luxurious look and feel, or pair it with a lighter color or different surface type altogether as a complimenting contrast.
Open Shelves & Glass front cabinets – so many choices in glass fronts allows you to find the right look to match your style. Strategically plan Open Shelves in areas away from the immediate cooking area to keep appearances neat and clean. Be open when considering what to display – very little is off limits today, be it places, fruits and vegetables, spices and more.
Darker Paint tones – we love the rich colors but don't want to make our kitchen feel too dark. Select an accent wall for your darker color and let it compliment the other colors of your kitchen.
We won't even mention that Pantone just selected "Radiant Orchid" as its' Color of the Year for 2014. Purple kitchen anyone?
?
This post was developed using content from the article "2014 Kitchen Design Trends: Homeowners Want Black Counters, Open Shelves or Glass-front Cabinets, Darker Paint Tones", The Wall Street Journal, 12/3/13.