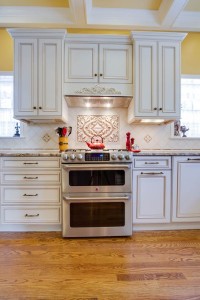 Combining individual focal points such as a shallower depth cabinet above the range and a tile accent can create a larger focal point area in the kitchen.
Every kitchen has a focal point. That one area that always captures peoples' attention the moment they walk in. Or brings a smile to your own face because it looks better in your kitchen than you ever imagined it could. Most are intended. Some are not.
Whether it is a broader point that draws you to a cabinet finish or countertop surface, or a more detailed point like a decorative hood or tile accent on a backsplash, the focal point of the kitchen can come in many shapes and sizes. Here are 7 kitchen design ideas for your own kitchen focal point:
• Decorative Mantel Hoods
• Tile Backsplashes
• Decorative Countertop Edges
• Furniture Style Kitchen Islands or Kitchen Islands with contrasting finishes (or both!)
• Decorative Glass Doors
• Bumped out, bumped out wall or base cabinets
• Ventilation Equipment
So does that mean there should be added pressure to pick a focal point for the kitchen? No. Work with your designer to find the right area in your kitchen and then work on the details of the space to highlight this area. A good collaborative effort will help you identify kitchen design ideas that can ultimately be narrowed to the focal point that is right for your space.
By Jim Grace