Sometimes a little inspiration is all you need to get started on a kitchen remodeling project. For one lucky person, that inspiration may have come in the form of a new pink Kitchen Aid mixer courtesy of Reico Kitchen & Bath's drawing, held for consumers signing up on via the Reico website for our quarterly newsletter.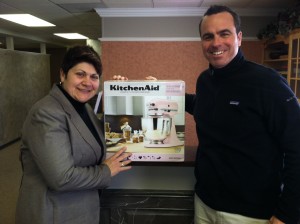 Mixer today...Kitchen tomorrow?
There's no obligation to purchase anything when you sign up for our quarterly newsletter. But once you add one shiny new thing to your kitchen, or get a newsletter with kitchen ideas, trends and special offers, there's always that chance that you will want to think bigger and better and consider new kitchen cabinets, appliances, countertops, flooring, hardware….well, you get the idea.
What's your inspiration for a new kitchen (or bath) going to be? It's out there, just waiting for you to find it!