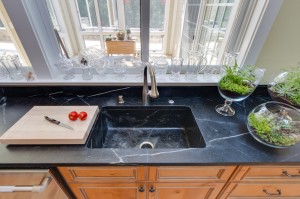 Which sink is the right choice for your kitchen?
Nowadays the kitchen sink has been elevated to the level of appliance in the kitchen. It is no longer just a hole for water, soap and dishes. You can do so much more with the right type of kitchen sink and sink accessory. How do you know what's right for you?
• Single Bowl kitchen sinks offer the most versatility with the largest space for your largest pots and serving pieces. If it is deep enough you can cover almost anything in hot soapy water. There is never any confusion as to which bowl has the disposal in it.
• Double or multiple bowl kitchen sinks offer specialized spaces for washing, soaking and disposal areas. You can rinse veggies on one side and dispose of skins and cuttings on the other.
• Farm sinks come single or double bowl and in a variety of materials. They can give you a specialized look as well as a deep well for your tall items.
• Sink Accessories are available for most kitchen sinks and include things like chopping blocks, strainers, bottom racks and dish drainers to name a few.
Spend some time on your kitchen sink choice and avoid that sinking feeling.
By LindaRose Payne