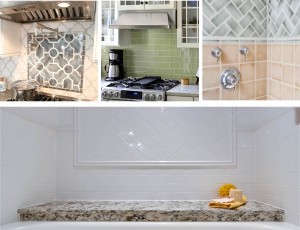 Ceramic Subway Tile offers Focal points, accent strips, varying tile sizes and more!
Easy to clean, light reflective and stain resistant, Ceramic Subway Tile may just be the hardest working tile in the world. Whether as the wall covering for subways…or as a kitchen or bathroom backsplash, these ceramic tiles bring style and sanitary together in a near endless assortment of wall covering and backsplash ideas for kitchens, bathrooms and more.
Finishing touches can make your best backsplash ideas even better. For kitchen backsplash ideas, consider a framed focal point that incorporates a new shade or color for above a sink or cooking area, or add scattered accents to your backsplash to add some variety and style.
Adding multiple accent strips to sink level tile or building up base level tiles with multiple types of tile are great bathroom tile and backsplash ideas that can add distinction and uniqueness to your space.
With a wide selection of colors and finishes, Ceramic Subway Tile works well with almost any style or décor. Sizes for these tiles varies, as subway tile is used to describe most traditional (4x8, 1x2) and non-traditional (2x8) rectangular shaped tiles. The right choices will transform your kitchen or bath into something special!
This post was developed using content from the article "All About Ceramic Subway Tile" by This Old House.