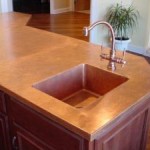 Copper Kitchen Countertops can be a kitchen focal point!
Most often seen in bars and exterior applications, copper kitchen countertops are not out of the question for those who really want it. Its distinct look can provide an exciting focal point to any kitchen. Here are some basic things you should know about using copper in your kitchen:
1) Copper's orange-red based color and patina will turn gradually turn a brownish-tone the moment it is installed indoors, with very little to none of the green oxidation you see from outdoor applications.
2) A soft metal, copper will naturally dent over time. Texturing the surface with a hammering effect can help to hide dents that may form over time.
3) Copper has been certified as anti-microbial by the Environmental Protection Agency(EPA).
4) Keeping copper kitchen countertops shiny is possible but will require a lot of work. If you are content with copper's aging and beauty, caring for the top is not overly difficult. Copper can be cleaned with mild dish soap and a soft cloth or sponge. However, polishing an entire copper top is a smelly, time consuming job.
5) Backsplashes and edges will typically be part of the same single sheet of copper fabricated for the kitchen countertop.
6) Any seams found on a copper kitchen countertops will be butt joints. A good fabricator will do their best to minimize the number of seams from the start.
Copper can definitely be considered as a kitchen countertop surface if that is what your heart desires. These ideas will help you make the decision on whether copper kitchen countertops would be right for your kitchen.
This post was developed using content from the article "Copper Tops: Copper as a Countertop Material" by the International Surface Fabricators Association, Countertops and Architectural Services Magazine, Volume 5, Issue 2