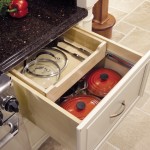 Base Multi-Storage Kitchen Cabinet Accessory by Merillat
One of the goals of clients remodeling their kitchen is for the new kitchen to be more organized and offer storage than the current version. A good designer will ask you to list your most used kitchen items and discuss placement and storage ideas based on your list. Many times, items are used in more than one of the 3 basic centers of the kitchen (sink, cooking & refrigeration/food storage), meaning that location becomes all the more critical when designing your new kitchen layout.
What to keep in mind when considering storage in your new kitchen? Here are 3 quick tips:
The point of first use – store items within comfortable reach of where you will actually be using them in the kitchen. Sponges and cleaning products near the sink. Spices, pots and pans near the cooking area. You get the idea.
Accessorize – storage options in the kitchen are everywhere! Knife drawers, cutlery trays, spice racks, trash and recycling centers are just a few. Need more kitchen accessory inspiration? Check out our Accessories Board on Pinterest.
Uncover hidden storage opportunities! – whether it's a tilt out sink tray to hide sponges or storage accessories for corner cabinets, coming up with storage solutions throughout the kitchen is easier than ever and gives you more function and organization than your kitchen has ever had.
What's in store for your new kitchen? The possibilities are endless!
Source Note: This blog post was developed using information from the article "A Place for Everything in the Kitchen" by David Newton, Qualified Remodeler, November 2012