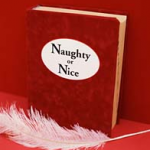 Everyone knows the tree goes in the front room, the wreath on the front door and the lights outside…but what about the kitchen? The kitchen is where the real magic of the season happens for those fabulous meals and treats. Check out our list of what's naughty and what's nice.
Naughty: The usual dish towels, oven mitts and hot pads.
Nice: Colorful, holiday-themed towels, mitts & pads.
Naughty: That regular old bowl of fruit.
Nice: A bowl of colorful ornaments that shine & sparkle.
Naughty: Plain white paper napkins & paper towels.
Nice: A festive container to hold holiday themed paper towels & napkins.
Naughty: Boring old regular under cabinet lighting.
Nice: Colored gels or a string of lights along cabinet bottoms or kitchen windows.
The best part is that your empty holiday storage boxes can store your regular items during the season and will be easy to find when you go to put your holiday stuff away.>
What do you do to bring the spirit of the season into your kitchen?
By LindaRose Payne