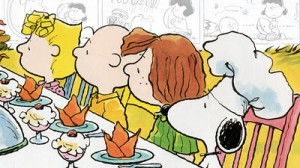 Quick, can you name the Thanksgiving feast served by Charlie Brown for all of his friends? If you are thinking 2 slices of buttered toast, some pretzel sticks, a handful of popcorn and a few jelly beans you were correct!
Now, can you name the feast later cooked up by Snoopy and Woodstock? Turkey with ALL the trimmings and pumpkin pie…a little more traditional (that Snoopy was always a bit of a show off!).
The best part of both feasts was that it brought many different people (and animals) together. And like most Thanksgivings, there was a laughter, comraderie and even a little heat as everyone came together to share in the food, friends and fun.
But, as Marcie said to Charlie Brown, "Thanksgiving is more than eating." Don't wait for the holidays! We should all take time to engage in "Thanks" giving every day…around our tables, in our kitchens and our homes.
So Happy Thanksgiving and happy "Thanks" giving from all of us at Reico Kitchen & Bath!
By Jim Grace