Cabinets, countertops, appliances, sinks, faucets, tile, flooring…that's everything right? NO!
Hardware can be the finishing touch to any kitchen, providing you with the chance to pull the entire look of the kitchen together to dramatically impact the feel, function and style of your kitchen.
But how overwhelming can that be? Today's choices in kitchen hardware are almost infinite….knob or pull, big or small, simple or ornate, shiny or matted…enough!
Some quick tips based on current trends to help guide you: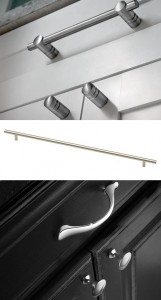 What type of kitchen hardware is right for your kitchen?
Simple, clean lines!
Most popular in kitchen hardware, replacing more traditional decorative hardware choices with simple elegance and a timeless look.
Nickel, Stainless and Polished Chrome!
The most popular finishes, beating out the more traditional bronze and antique kitchen hardware finishes.
Bigger is better….for some!
The use of oversized or larger kitchen hardware demand is trending upward, but most still prefer simple, small and unobtrusive.
Grin…and bare it!
Some still prefer no kitchen hardware at all for a clean look across every door and drawer front.
While choosing (or not choosing) hardware changes the look of the kitchen, it can also change the value perception of the kitchen. It is an accent to the entire space that can often be easily changed out, giving you the chance to change the look with some ease.
Source Note: This blog post was developed using information from the article "Hardware provides Essential Accents" by Elizabeth Richards, Kitchen & Bath Design News, December 2012