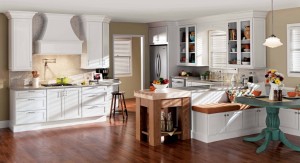 What kitchen ideas do you have this Spring?
Its spring time, and nothing ushers in that feeling better than a white kitchen. Timeless in style, white kitchens offer the refreshing breeziness of spring and the opportunity to showcase vibrant colors like those that come from spring's first blooms. Whether it is from flowers, fresh fruits and vegetables or the colorful decorations and keepsakes you have, these simple accents add more pop to your white and put more "spring" in your Spring.
More permanent changes can be considered too….a bright color of paint or pleasant pastel can change the whole look of your kitchen, whether you choose to paint all the walls or just create a fun, fresh looking accent wall.
The choices are all yours and with white, the possibilities are near endless.
How would you decorate a white kitchen this Spring?
This post was developed based on content from the article "Spruce up Spring" by Merillat Cabinets.