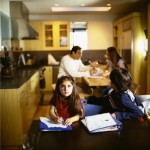 Providing space to do homework or other work is another way you "use" your kitchen.
While it's fairly obvious that kitchen design needs to include space for all things cooking, it is not always so obvious that the kitchen is not JUST for cooking. What else goes on in there?
Family Activities: Do you or your kids do homework at the kitchen table? Do you meet as a family or play board games? Then you might need a large seating area or space for homework tools.
Projects: Do you do craft projects or are you married to chef who is always experimenting with something yummy? You might need extra counter space and storage for supplies or a space for a tv so they can follow their favorite cooking shows.
Business: Are you the CEO of a home-based business or do you use your kitchen as a part time office? Do you pay your bills and/or keep the family calendar in the kitchen? You might need a desk area with a charging station and space for a computer and/or printer.
Furry Family Members: Do you have pets? Do they need dedicated space in the kitchen for eating? Perhaps an extra pull out trash could be used for scoopable food storage?
Other Stuff: I'm sure there's other stuff. One of my current clients likes to "sandwich" her quilts in the kitchen so we needed to make sure she could move things to create a king size floor space.
Remember – it doesn't matter what that kitchen smitchen use IS - what matters is that you design your kitchen to accommodate YOUR version of Smitchen!
By LindaRose Payne