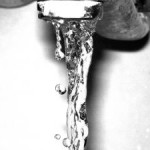 Water you thinking for your new bathroom?
We all want to live responsibly without sacrificing our water experience in the bathroom. Water defines the bathroom experience – not just for its cleaning aspect, but its wellness aspect too. It is both feeling and function.
Most of today's manufacturers focus more on that "feeling" of water and less on how water works. Close your eyes and imagine a shower setting like Immerse, Soothe or Drench…all terms being used today to describe how water feels. If you are like me, you it feels good just thinking about it. It is these forms of hydrotherapy that help stimulate the release of endorphins, our body's natural feel good chemical.
What else can water do in your bathroom?
• Offer water efficiency through products such as WaterSense or dual flush toilets.
• When combined with colored lights that are safe for water use, help soothe your senses and create a mood in your bathroom that helps bring back the physical, emotional or spiritual energy our bodies may be lacking.
• While not quite water, the use of liquids in aromatherapy can activate emotional centers of the brain or kill microbes and fungi when applied directly to the skin.
Consider these few ideas to get you thinking about your own water experience and help your bathroom become the restoration and rejuvenation space you want it to be.
This post was developed using content from the article "Bathroom Trends Balance Bath Experience" by Ellen Cheever CKD, ASID, CAPS, Kitchen & Bath Design News, February 2013