Molding just the right experience! | Frederick, MD Kitchen Remodeling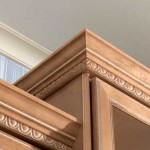 The finishing touch!
Great experiences come down to details, and nothing requires more detail than molding. Lengths, angles, cuts and joints can make or break the finished look of any cabinet molding. A Frederick, MD kitchen remodeling client came to our Frederick, MD kitchen showroom looking to add cabinet molding to his existing kitchen. The Reico staff gave the customer a sample of the molding he was interested in to make sure it matched, along with product specifications and specific instructions for how to measure so he could confirm exactly how much molding to order.
"We tried to give the customer as much information as possible to make sure this was all done correctly," said Pam Woods, Manager for Reico Kitchen & Bath's Frederick, MD location. "Moldings can be tricky and we wanted to make sure every base was covered." According to the Frederick, MD kitchen remodeling client, "I measured the crown molding needed per the instructions given to me by Reico and ordered it. I was informed by email when the pieces arrived, when the pieces would be delivered, and when the installer would arrive. Ed, the installer, did a beautiful job. He cut the molding exactly and matched all the seams. He was meticulous in his work. It turned out beautifully and was a wonderful experience from start to finish."