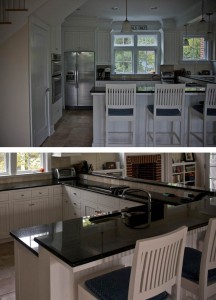 Open floor plans that create a social kitchen are a big focus in kitchen design right now. Cooking is more of a communal event than ever. Family, friends and even guests are getting involved in creating a meal. Combining the kitchen with living and dining areas makes dinner a family event and opportunity to share your day over meal preparation.
When planning a kitchen in an open floor plan, give special attention to the style and materials you select. The cabinetry, lighting, flooring, etc. should complement your furniture in both style and color. It isn't necessary that they match, but your kitchen materials should "flow" with the dining and living spaces.
You may want to consider using distinctive design elements to better define the kitchen space in an open floor plan. Pendant lights over an island, a change in wall color, or a bar height half wall with overhang can help better define the space within a space.
Consider an open floor plan as part of your kitchen plans and expand the heart of the home to include dining and living space. You won't regret it!
By Debbie Williams