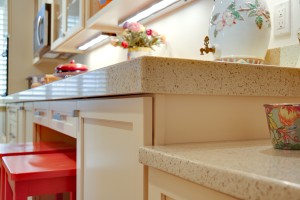 Mutiple levels of kitchen countertops create flexible working areas.
Don't talk to boomers about Universal Design. Today it is Smart Design that benefits everyone of all ages, incorporating smart design ideas throughout the home to allow families of various sizes and multiple generations to stay in place. Want some smart design ideas that can make your home "smarter"? Here are 8 tips:
1) Put kitchen countertops at multiple levels
2) Consider open and pull down shelving
3) Add touch operated faucets
4) Use flat thresholds throughout home and especially bathrooms to reduce tripping hazards
5) Adding blocking behind showers and other walls to properly support grab bars and seats
6) Create open space beneath kitchen or bathroom counters for seating access
7) Look for opportunities to create point of use storage versus having a central location for all storage
8) Stack closets in the design of a home to allow for possible future elevator
There many smart design ideas to consider. Finding the ones that are key to how you live will help make your entire home smarter and your life forever a little bit easier.