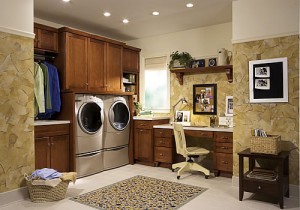 Laundry Room with desk area...multi-task away!
Today's laundry rooms are not what they used to be! By incorporating more features and amenities from other areas of the home, some dread is being taken out of doing the laundry. Planning and a desire for greater functionality in the laundry room is the key. Here are a few things changing today's laundry room:
A better understanding of how consumers want to use the room beyond laundry
Is it part mud room or storage area?
Is it a craft center?
Is it a charging area?
Is it a secret getaway to watch a favorite show or enjoy another guilty pleasure?
A better understanding of how people do their laundry and use their laundry room
Does laundry sit for a while or does it get done right away?
Does laundry get folded in the laundry room or somewhere else?
Is a sink required?
Will ironing be done?
Are drying racks used?
A better understanding of the personal touches people want to personalize their laundry room
Is it decorative – a tile backsplash, special task lighting or a bold countertop?
Is it fun – a flat screen tv or undercounter refrigerator?
The laundry room can be more than just a place to do laundry. Consider the questions above…and all the options, plus your needs and wants to create a laundry room that can truly do it all!
https://youtu.be/jG5Rt-KZlLc