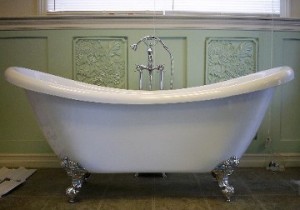 Relax....
Last month I shared my personal top 5 things I would want in my own kitchen. Now I put on my bathroom designer hat and turn my attention to my personal getaway space...the bathroom. Here is what I must have. My top 5:
1) A roomy shower – there is nothing worse than a shower that is so small you have to get out to pick up a dropped bar of soap!
2) A hand held shower head – this is a must! Not only does it enhance your shower experience, it makes rinsing the walls after cleaning a breeze.
3) Taller height vanity cabinets - at 34.5" tall not only is it much more comfortable to use (think less bending at the sink), it also adds storage capacity below.
4) Dimmer switches - particularly on the main light. No one wants to be blinded by a full on bright light in the middle of the night or first thing in the morning.
5) A claw footed soaking tub – placed in a private nook with a view, it's my escape. Lovely!
You don't need a bathroom designer to tell you how nice it is to start your day in a beautiful space. But we can help you make the most of that space, whether through function or a little extra fun.
By Debbie Williams