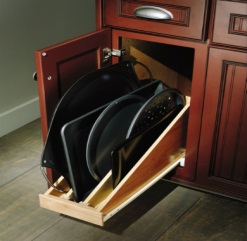 As an avid cook and kitchen designer (in that order!), I have a definite list of must haves for my own kitchen. Here are my top 5:
1) A Tray base – stores cutting boards, cookie sheets and serving trays in an organized and easy to access 9" to 12" wide cabinet. Go a little wider and get muffin tins and rectangular casserole dish storage too. (Bonus Kitchen Designer tip: Consider locating this above a double oven for even more storage in an under-utilized storage space.)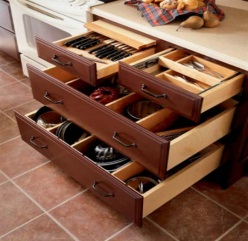 2) Outside venting – most exhaust hoods recirculate air. Venting to the exterior makes a huge difference in removing steam and odors from the kitchen. (Bonus Kitchen Designer tip: Turn the exhaust fan on when you start to prep for a meal to remove the onion and garlic smells and start the air moving.)
3) Drawer Bases – the only way to go for all sorts of storage, not just pots and pans. Tupperware, mixing bowls, casserole and serving dishes all in one space for easy access. The natural bonus here is efficiency: opening a drawer versus opening a door and pulling out a tray.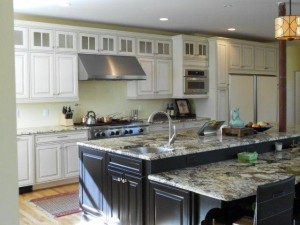 4) Shallow depth pantry storage – 12" to 15" deep pantry storage allows for easy viewing and nothing gets lost in the back. With adjustable shelves it is easy to organize for exactly the sort of food or small appliance storage you need.
5) 5' or more of continuous work surface – preferably (but not required) on an island. The right size for meal preparation and baking projects…plus great for buffet space or school and craft projects.
It doesn't take a kitchen designer to tell you that working in a kitchen is all about enjoying the experience! With a better layout and more organized storage, the easier and more enjoyable every kitchen experience will be. Try including some of my wishes in your next kitchen project.