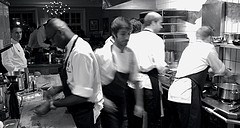 How many cooks in your kitchen?
An important and simple thing to consider while designing your kitchen floor plan is….how many cooks do you have?
Just me! Just me!
• You'll want to make everything as handy as possible to your primary work area. A galley kitchen or a small U shape should do just fine and keep your running to a minimum.
Two cooks?
• Don't put the sink directly across from the range or you'll be jockeying for booty space.
• Place the microwave someplace other than directly over the cooktop.
• Consider an additional sink for an extra prep area.
• You may also want an additional oven depending on the amount of cooking you plan to do.
Multiple cooks?
• Add some extra walkway space, at least 42 – 48" of walkway space between cabinet runs.
• See "Two cooks" above and give more serious consideration to sink and appliance recommendations.
Counting your cooks will help create an efficient and fun kitchen that anyone or everyone can work in!
By LindaRose Payne