Most of us probably grew up in the same kitchen. Dishwasher flat on the ground to the right of the sink. Single door refrigerator with the freezer on top. And a stove, oven or cooktop with microwave or second oven over it. I know you can picture it. Well, it's time to let everyone in on a not so well kept secret, thanks to Houzz, Pinterest, remodeling TV shows, YouTube clips and more information on universal design and aging-in-place than most of us can possibly digest.
You can choose and use your kitchen appliances (and your whole kitchen for that matter) how you want to.
Unless you've tricked out some media room with the latest technology and equipment, the kitchen is still the most expensive (and most-used) room in your home. And while we must keep our refrigerator - sink/dishwasher -range/oven kitchen work triangle in shape, we can take some well thought out steps to make that "work triangle" easier to use and access at any age. To help better understand what that might look like, here are 3 universal design based appliance placement tips that work in any kitchen: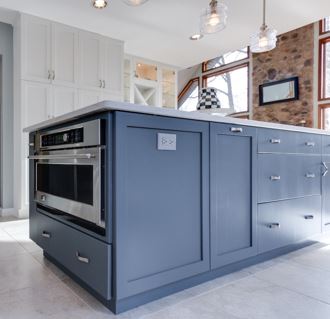 1. How low can you go? - Get your hand jive on! Consider lowering the height one or more of these appliances to create easier access:
Sinks and cooktops set on 32" high counters for easier access. Cooktops should have top front surface controls that are easy to access without sticking out. Consider faucet placement as well when lowering sink.
Microwaves placed in an open shelf base cabinet or on an island for just below counter height access.
Wall ovens centered at eye level for easy access and view of what is cooking.
2. Side by Side on my…refrigerator? While Ebony and Ivory may be popular as cabinet finishes, it's probably a stretch to reference this song when talking about side by side refrigerator/freezer, but the fact is that going side by side makes things easier for just about every user, regardless of age or situation.
3. Can you take me higher? - not too many kitchen blogs can pull off a Damn Yankees song reference, but we can. Fortunately, we are talking about dishwashers and not '80's rock ballads. Raising your dishwasher off the floor makes loading and unloading much easier and less taxing.
Understanding the benefits of universal design benefits everyone for appliance placement tips, kitchen design ideas and more. I mean, who wouldn't want a design that would make things easier to use or access? We certainly look for convenience in every other part of our life, so why should our kitchen or appliances be any different? It shouldn't be!
By Jim Grace