For most of us, we are constantly looking for ways to make our bathroom feel bigger. For some of us, it is a space issue…where we dream of having just a little bit (or a lot) more. For others, it is an organization issue. A bathroom that feels big enough quickly becomes cluttered, busy and full.
The good news? There are bathroom design ideas that can address issues of space and organization to help your bathroom feel bigger. Here are 5 bathroom design ideas to help you get the most out of your space: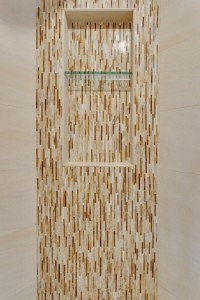 Replace a shelf with a niche and open up your shower space.
•Recessed medicine cabinets with electrical outlets – get 2 bathroom design ideas in 1 with this one. Create more space by recessing your medicine cabinet and then add electrical outlets inside the cabinet to take re-chargeable items off of your countertop for a more open, organized space.
•Shower niches – continuing on the theme of recessing, adding a niche when designing a shower can give that space a little more elbow room (literally!) by eliminating corner shelves to open up the space. Incorporate niches at multiple heights to accommodate users of all heights today and for the future.
•Wall mount faucets – open up more countertop space by incorporating a wall mount faucet. While it won't provide a lot of additional space, it may be all you are looking for…plus it gives you a cool visual and something a little bit different to look at.
•Oversized floor tiles – going bigger can be better when it comes to influencing the "feel" of how big the space is. Our minds are wired to interpret traditional sizes, so larger tiles can disrupt how we normally process this info and allow us to look at a space and as if it is actually bigger.
•Cabinet towers on top of countertops – while this won't work in every bathroom, when you have the countertop space or have cleared it up with some other design ideas like a recessed cabinet, a cabinet tower can add more storage to the same space and, in some cases, more clearly define areas for multiple users.
Consider any or all of these bathroom design ideas when thinking about a bathroom remodeling project. A few well thought out design changes can help expand and improve your bathroom space and give you more room to enjoy.
By Jim Grace