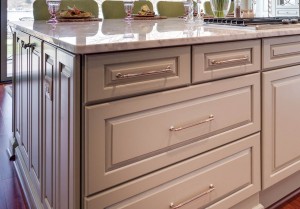 The desire for a kitchen that is more organized, easy-to-reach and use has never been greater. One of the top reasons we remodel our kitchen is to create more or better storage. The opportunity to increase kitchen storage is everywhere. Here are 5 simple ideas that can help you add more kitchen storage that is easy to access:
1. Design cabinet storage between 24" - 46", the defined comfortable access range for a standing or seated user.
2. Add full extension soft close drawers, trays and pull out storage units wherever possible.
3. Add deep drawer storage that is lower to the ground for dishes and other heavy kitchen objects.
4. Add specialized drawer compartments for storing spices, cookware and small appliances.
5. Raise dishwashers 10"-12" off the floor and install a drawer underneath to utilize the space.
As in life, you can never have too many options for a good set of drawers. These kitchen design tips will help you get more storage from your kitchen.
This post is based on content from the article "Actionable Ideas for Universal Design" by Dan Bawden from Qualified Remodeler Magazine/www.forresidentialpros.com, June 2013.
By Jim Grace