Are your bathroom countertops a mess? We can always use more suggestions when it comes to keeping our bathroom countertops and other areas clear and free from the clutter of tooth brushes, grooming products, beauty needs, etc. in the day-to-day. Here are 6 design ideas to help you clear off the countertops in your bathroom: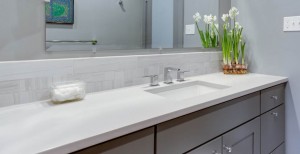 • Roll out trays or a vanity with drawers – instant storage options!
• Towel hook – most bathrooms already have but we see a surprising number that don't. The quickest, easiest way to clear towels off your bathroom countertops!
• Outlets inside medicine cabinets – tuck away electric toothbrushes, electric shavers, even cell phones!
• Wall niches to store toiletries – similar to what is done in showers, a small niche in the wall will clear those every day toiletries off your bathroom countertops!
• Recess a wall cabinet behind a door – create some extra storage for a variety of items, particularly ones not used every day.
• Tilt out sink trays – not just for the kitchen! Say good bye to toothbrush and toothpaste.
Of course, it always helps to start by purging items first and then organizing to make sure every item has a home in the bathroom. But with a little thought and planning about storing what you have and use regularly in the bathroom, your bathroom countertops will never shine brighter!
By Jim Grace