It's the holidays and while children and adults alike wonder where they fall on the naughty or nice list, your kitchen has a naughty or nice list of its' own. It is important to look closely at this list when considering a kitchen remodel to make sure that you include the right cabinet accessories to ensure your new kitchen comes up sugar and spice and everything nice. Here are 6 things that are most likely on your kitchen's naughty list that can be improved for your new kitchen.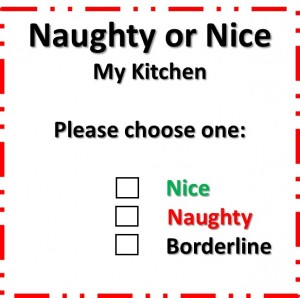 NAUGHTY – Shelves in base cabinets.
NICE – Roll out trays.
This is an easy one. No one wants to bend over or get on one knee to see what is in the bottom or backs of any base cabinets. Consider roll out trays in the middle and bottom of a base cabinet to easily bring things to you.
NAUGHTY – Trash can in kitchen.
NICE – Base Waste Basket cabinet to conceal trash and trash can.
Tired of looking at (or smelling?) that trash in the kitchen. Hide it with a base waste basket cabinet. Depending on the space you have you can design with anywhere from 1 to 4 baskets to incorporate recycling paper, plastic and more. Aren't you worth it?
NAUGHTY – Slamming doors and drawers echoing throughout the house.
NICE – Soft close action doors and drawers and gently closing with barely a whimper.
Goodbye slamming, banging and crashing! Adding soft close options to doors and drawer heads provides a gentle peace and quiet touch to any kitchen. And you'll protect fingers in the process.
NAUGHTY – Sponges on the countertop.
NICE – Tilt out sink tray to hide sponges.
Wet sponges cluttering up your sink and countertop area or adding a little too much "fragrance" to your kitchen? A simple tilt out sink tray installed behind the false drawer front of your sink base offers up a place for sponges and other small cleaning accessories to keep your countertop uncluttered and looking its' best.
NAUGHTY – Towers of spices stacked precariously in cabinets.
NICE – Organized, easy to access spice storage.
Your collection of spices may be like the infamous kitchen junk drawer…a lot of stuff packed in there that you know is there but have to almost tear apart to find what you are looking for. While we can't organize your junk drawer (without seeing it at least), we can organize your spices in a variety of spaces as pull out spice drawers, spice racks or pull out spice fillers for those really tight spaces that you need for storage.
NAUGHTY – Heavy duty stand mixer on your countertop or that you have to dead lift from the bottom of a cabinet.
NICE – Base Mixer shelf that gently raises and lowers your mixer.
Everyone has "that mixer". We love it when we are using it, but the rest of the time it sits idly by taking valuable space on a countertop or sits like an anchor in your base cabinet. You need, so why not store it on your terms, off the counter and with an easily adjustable shelf that raises when you want to use it and lowers when you are done. The perfect "blend" for your mixer!
These kitchen remodel ideas can turn any naughty old kitchen into a nice new kitchen. A few can even be incorporated to existing kitchens if you are not quite ready for that remodel. Choose the ones that will work best for you and transform your kitchen!
By Jim Grace