We are starved for order and organization in our lives, and nowhere is that more present than in our kitchens. Current kitchen design trends are showing more open looks and storage, meaning organization is more important than ever. From a stand alone shelf or set of shelves to open storage shelf cabinets that forgo the traditional look of glass doors on a cabinet, these open storage cabinets and shelves become focal points in the kitchen design for a variety of reasons. Whether it is showcasing decorative items or organization in the kitchen, here are some ideas on how you can utilize open shelf storage in your kitchen design: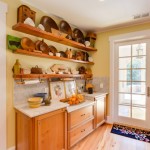 Open Shelf Storage that shows of family heirlooms and special pieces – a great focal point in any kitchen design is the opportunity to show off special pieces that have special meaning or value to the family. Not every kitchen will have the space to do this in a stand alone area, but when you do the results can be very special.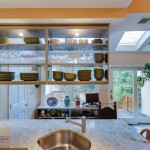 Open Shelf Storage that organizes the day-to-day – conveniently located over the sink and near the dishwasher, this open storage cabinet allows for quick storage and organization of the kitchen's most frequently used items. By being on the peninsula, the natural light comes through to keep the kitchen feeling open and bright.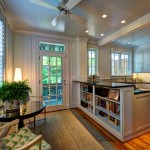 Open Shelf Storage on the edge of the kitchen – today's kitchen is becoming more and more of an open layout combining the kitchen space with adjoining rooms and spaces. A well-placed peninsula can offer both separation and transition from kitchen to adjoining spaces and the cabinets below can be utilized for a variety of storage options, from cook books to more decorative items.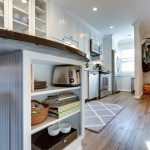 By placing Open Shelf Storage at the edge of a peninsula, you can create storage for either the kitchen itself or the space it transitions into. A great kitchen design option to help keep the countertop clear of the clutter of the day to day, the open storage offers a visible place to both store and access both frequently used and more decorative items.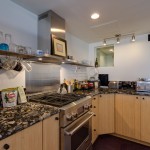 More and more Open Shelf Storage is being used in the kitchen as a replacement for traditional cabinets with doors. A key element is making sure you have enough storage in the rest of your kitchen to be able to utilize open shelf storage in key areas of the kitchen for storage and decoration.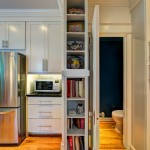 Open shelf storage comes in a variety of sizes, allowing you to maximize areas of the kitchen you otherwise thought could not be. A tall cabinet at the end of a run allows for storage of many different types of items, from books to decorative pieces and even small appliances depending on where the space is in relation to the design and layout of your kitchen.
Open shelf storage can be a great kitchen design consideration for any kitchen. Whether as piece that fits right in with the rest of the space or a contrast that allows it to stand out as a focal point of the kitchen, it allows you organize and show just about anything, from your day-to-day wares to your most cherished items. Identifying what you want to display in your kitchen is the first step to creating a great kitchen design that showcases what you want, where you want.