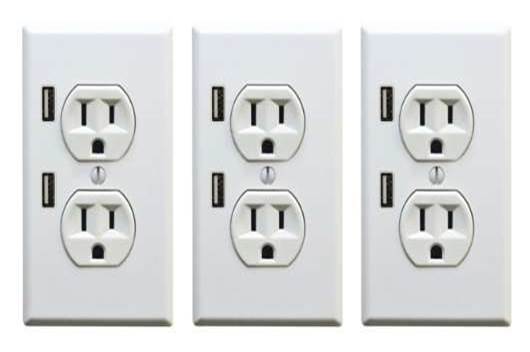 In my house we all gravitate to the kitchen...for meals, snacks, homework, bills, you name it. We spend a lot of time there. And invariably with that comes our variety of devices, from smartphones and tablets to digital cameras, gaming devices, Kindles and more. With 6 people in my home, it can be like our own mini (or not so mini) electronics show! I don't even want to start to count up all the devices!
So I am calling this recent discovery a kitchen design trend, because that is where I installed the first one in my house. It's really bigger than just a kitchen design trend, as you can find uses throughout the home (personally, I'm thinking office or bathroom next). And for around $30, it can add some well-needed and helpful versatility to charging the aforementioned multitude of devices!
The U-Socket wall plug is a modern day evolution of the traditional wall plug. In addition to the 2 sockets you expect to see, the U-Socket also includes 2 built-in USB ports. It was designed to be evironmentally friendly as well, including a smart sensor that recognizes when a device is fully charged and shuts down automatically, something your standard plug-in charger can not do. An easy change to make whether you are doing a full kitchen remodel or just looking to tweak things a little bit.
And so the mad rush to plug into this new option in our kitchen has begun. Now, if I could only get a few more USB ports in one of these...
By Jim Grace