When it comes to remodeling projects, most of us wrestle between the idea of kitchen or bathroom remodeling. We envision dream like spaces for both rooms that are beautiful and functional, warm and state-of-the-art. And because costs for bathroom remodeling can sometimes rival kitchen remodeling costs, budget becomes less of a deciding factor in the final decision when comparing to what room will bring the most enjoyment to you or your family.
According to a recent Houzz survey, bathroom remodeling is the most popular renovation project for U.S. homeowners over the last 5 years. Almost one third of those surveyed had done some sort of bathroom addition or alteration. Whether it was a simple replacement of a bathroom vanity and top or adding tile to an alteration that expanded a master bathroom from functional to spa-like retreat and getaway, bathroom remodeling projects surged ahead of the other projects.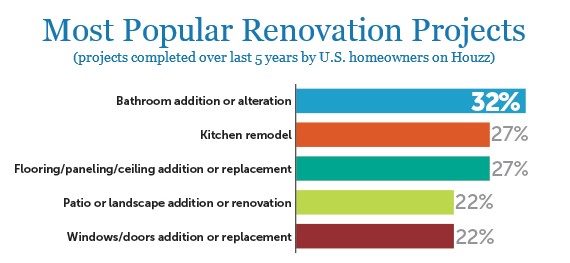 Deb Tomlin, branch manager for Reico Kitchen & Bath's Richmond, VA showroom, concurs with these findings. "We see a large number of clients coming in looking to remodel their bathrooms. Whether it is a hall bath or master bathroom, people are looking to update their spaces to make them not only more functional but also more enjoyable." Added Tomlin, "So many come in with ideas they have found on Houzz, Pinterest and our own website and are ready to discuss their project with a designer and move forward."
Kitchen Remodeling was not far behind at 27%, tied with flooring/paneling/ceiling addition or replacement. What this 1-2 punch of popularity really means that deciding on a kitchen or bathroom remodeling project is really a matter of personal preference. Deciding on what will bring the most enjoyment to your home is often the hardest choice. But the good news is that while you may only choose one now, you always have another choice you can make later. And let's face it, when you have that "why didn't I do this sooner" moment the wheels are already turning on that next project.
By Jim Grace