For many clients, the scariest part of the remodel isn't seeing your kitchen torn out with just an empty space. It's not trying to figure exactly which color cabinet finish looks best with which countertop finish that goes with the hardware finish and faucet finish and oh, yeah the floor color, wall color, etc. It's hearing that question…
How much are you looking to spend?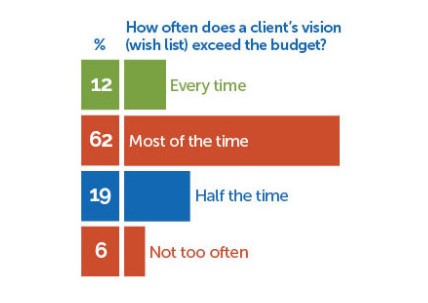 From Qualified Remodeler Survey, August 2014
The words most of us fear hearing when we start any remodeling project, but especially so when we start a kitchen remodeling project. We may already know what our budget is, but there is always that moment of apprehension when we go to say it out loud. Maybe it's because a recent online survey of remodelers done by Qualified Remodeler indicated that 93% worked with clients who exceeded the budget every time, most of the time or at least half of the time.
Why is that? There are more resources out there than ever before to get an idea of how much a kitchen remodeling project is going to cost. From television shows to online kitchen estimator tools, getting a good idea of how much a kitchen remodeling project can cost has never been easier. And if nothing else, we can always fall back on the well-worn rule of thumb that guides us to spend between 5-10% of the home's value on your kitchen remodeling project.
So what tempts us to "budge" it? So many things. It could be that you are in the home you plan to retire in and want to spend more on special comforts or smart staying-in-place items to help your kitchen adapt with you. It could be you find that must have cabinet wood and finish or that special piece of granite or engineered stone. Cabinet accessories that make for easier access. Under cabinet lighting, crown molding, glass doors and other items your current kitchen never had and make sense to include (or you decide you just can't live without!). Appliances that work smarter or more quietly. It could be something found behind the walls that requires additional labor that you can't plan for until it is found. The list goes on and on and adds up faster than you keep track.
The good news is that it is possible to work within a budget. How you ask? Do A LOT of research. Separate wants from needs. Get input from your kitchen designer. Identify where you might want to spend a little more and figure out where you can spend a little less. In most every remodel, compromises must be made and that's okay. Make decisions that will make you feel good regardless of whether you come in under budget or go over, as long as you know it is for the right reasons.
By Jim Grace